With the increasing cyber crimes, employers have become more aware and active in keeping a check on their staff and their official smartphones. A similar situation has been faced by parents or partners; they wish to get more access to their kids or better-half's phone. 
If they get involved with some fraudsters, then it can affect the environment and relationship between the two sides. No matter what your reason is, all you need is adequate discretion and professional support. Not from any spy agency, but you can also hack someone's phone with Spyier and other spying apps. 
#1 Spyier 
The first and most trusted spying app on this list is Spyier. It has multiple features that include keylogger and live location tracker. Since it works on both iPhone and Androids, this app is exceptionally popular among the users. There are millions of people using this app from over 190 countries from all over the world.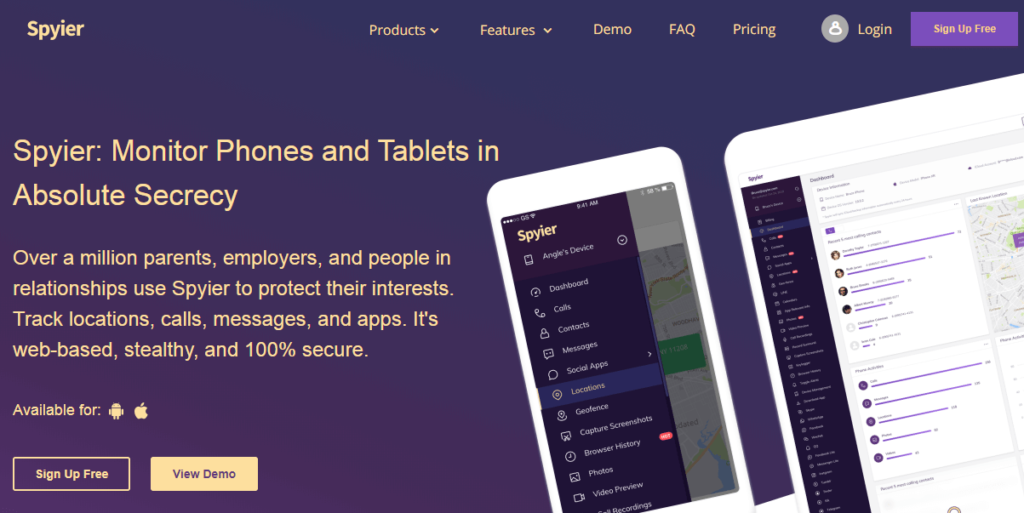 The app has been assisting many in safeguarding their relationships and other aspects for many years. It is also a useful app when it comes to checking call logs, galleries, and even social media accounts.
Spyier- the Number One Phone Hacking Software
As this app has been used by many, the positive reviews have reached on international platforms like PC World, TheGuardian, BuzzFeed, Forbes, The Huffington Post, and many more! The app is super easy to use and spy with; its web-based interface makes this possible. All you need is a device to monitor with and a proper internet connection to start with.
Even the process of logging in is simple; users just have to follow quick set up instructions listed below: 
Step 1: Visit Spyier's website and make your account. After which you can choose a subscription plan that you like and fits your needs. 
Step 2: Choose the operating system of the target device- Android or iOS. The next steps will depend based on this decision. 
iOS target phones can be hacked without any physical access. You need the iCloud credentials of the device, and you are good to go. 
Android target phones, however, require physical access as you will have to download a 2MB Spyier app on the phone. The app can be hidden after installing it.
Step 3: After Spyier finishes syncing with the phone, you just have to log in on your account and get spying.
Why choose Spyier for hacking a phone?
There are so many benefits of using Spyier; most of these include how it provides you entry into most parts of the phone easily. However, you will also have complete data and privacy safety. You can see what the person has been doing on the phone, their calls, gallery, location, iMessages or texts, and other social media platforms. 
The dashboard will contain all information about the apps present on the phone, real-time tracking, conversations, and media files. Use the tabs present on this dashboard to see the use of the app and password or username used to sign in on any account.
Another amazing feature of this app is that you do not have to jailbreak or root the target device to complete the setup. This secures the device from being exposed to data loss or potential virus break-ins. Spyier will take complete care of all your personal data and other information and ensure that none of it is stored on their servers. 
#2 Minspy 
Another reliable spying app is Minspy. This app is designed from the latest AI technology that effectively keeps the idea of 'someone is spying on my phone' from the target person. They will never know how you collected the proof about them doing a particular activity. As one of the safest spying apps, Minspy also doesn't require jailbreaking or rooting the target phone. 
#3 Spyine
Regardless of the operating system the target phone uses, Spyine is an effective and useful app that will make spying easy for you. This has social media spying, call monitoring, and location tracking features. It is also a safe and simple platform to choose when it comes to spying on a person through their smartphone.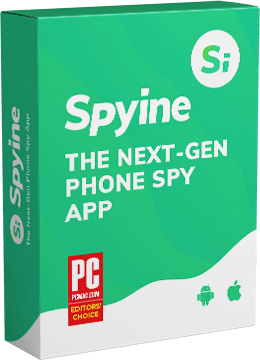 #4 Spyic
With its cutting-edge making, Spyic has made it into this list of 5 effective apps to hack other phones with just their number. This is quite similar to Spyier as it sports easy installation and set up process. It is also compatible with both Apple & Android phones; making it easy for the users to choose their target device. 
The app makes remote tracking of location and seeing their messages a whole lot easier. It will not affect the functioning of the phone at all, even when you are checking the messages on a social media app. Every message stored on the dashboard will have a timestamp to show when the conversation took place. 
#5 NeatSpy
Backed up by its geofencing feature, NeatSpy is another effective app in hacking into a targeted device. This is a reliable and productive app that helps in making remote and stealthy spying convenient for the user as they can sit back home to commence spying. 
They can also check the social media activities and more right from where they are, while the other phone is far away from you.  It is also a web-based interface that makes detection and spotting difficult for the user of the target gadget. NeatSpy is a creative, tech-savvy, and useful app when you have to spy on your partner or kids. 
Final Verdict 
There are so many apps available to make spying on phones of employees or kids easy for anyone. These spying apps are an innovative solution to get sufficient access to the person's phone without letting them know. When you hack someone's phone with Spyier or other spying apps, it is a more cost-effective and impactful solution than any other service. 
Among so many options, Spyier is a reliable and advanced spying app that you should choose. Its long list of features and easy to use interface will make the supposed tedious task easy. With different subscription plans, you can select the one that you find most useful in your case. Get spying with Spyier!