The magical, wonderful time of the year is here! A time when customers are in the mood to shop, and online business owners take to email marketing to boost sales! "So long as you have a clear call to action driving visits to your online store, and a particularly good offer or deal, email marketing may just be the push your business needs this season,".
As you read on, you'll learn how to make your site visitors, not just view your site, but also have interests in your products. Postcards email builder helps you to create templates which you can use for holiday email marketing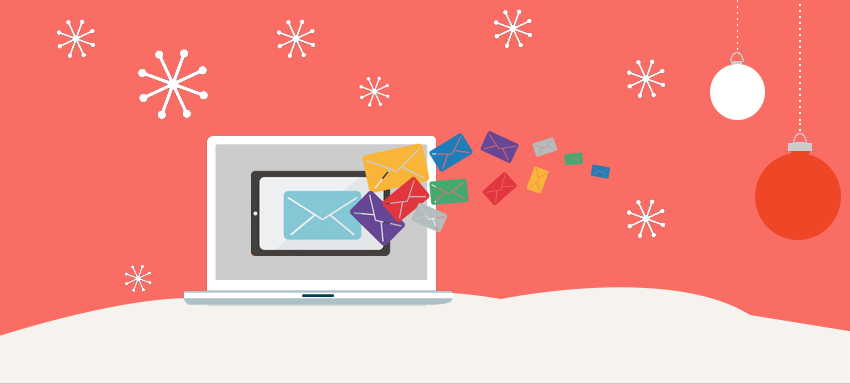 1. Personalize your emails
Your consumers may not like it when they realize that the exact content of the email sent to them is being sent to every other person. The least you can do is personalize these emails to make your customers feel close to your brand. Where possible, address your email recipient by his or her first name. If you don't have their first name, making the email general with a tone of familiarity is the next best thing.
2. Send out timed-discounts
Just like personalizing your emails, shoppers usually respond eagerly to discounts sent to them ahead of major events or anniversaries taking place in their lives. That is, ahead of occasions such as wedding anniversaries and birthdays. More importantly, you should send out timed discounts for the big shopping holidays, such as Christmas and Mother's Day. Also, people anticipate Boxing Day and Black Friday sales emails, and they actively search for whatever is on offer.
3. Make use of an Email to Text Service
Integrating email to text into your general email marketing strategy is a great way to increase your response rate and the overall ROI that you see in your campaigns. Using an email texting service like ClickSend can help you to do just this. Their integrated platform gives you an easy way to send and track responses and follow up. It is well worth checking out! "
4. Display your up-and-coming products
Another tip to enhance your holiday sales via email marketing is showing your up-and-coming products as you take pre-orders. Feature your newest collections in the emails you send out and offer your customers the opportunity to pre-order. This will make them feel rewarded, and life gets more manageable for you on your business end.
5. Show sneak peeks of behind-the-scenes
Email marketing is a great way to show your audience what goes on behind the glitz and glamour of your lovely online storefront. Newsletters also give you the chance to interact with your customers without focusing on the sales. Hence, your relationship grows stronger.
6. Use emails to get testimonials
Having testimonials on your site will give potential customers the confidence to click "buy" on the site. However, this is harder than you may think. You can start by sending out an automated email to a customer a few days after they got their order. It would be an excellent way to gather testimonials from such customers.
If the customers take the bait, then you may add an incentive, like a small discount or prize drawing on their next purchase. Also, you may personalize the automated email you send, asking them for their feedback on the specific purchases made. And to show your excellent customer service, you should let them know you're listening, that you'll share their reviews whether they're bad or good. These methods usually do the trick.
7. Have a visible email sign-up bar on your site
You may collect email addresses on your "About Us" page or at checkout. This is important, especially since the customers already show more than a passive interest in knowing more about your business. Anyway, you should have an email sign up bar that is prominent on the landing page of your online shop. This will help your email list, and hence your email to expand as much as possible.
8. Use the A/B testing in optimizing your emails
The A/B testing is when you use multiple versions, that is, Version A versus Version B of the same email, with tweaks to the email body or subject line. Consider which of the two is better. Also, determine what type of subject lines your audience opens more: topics highlighting new products or sales?
You probably will not be able to use the A/B test on every email you send out, so test the emails that affect the bottom line the most after deliberating properly. You should not forget this test when you're compiling newsletters around the holidays or emails to campaign for big holiday sales.
9. Start with a newsletter per month
Keeping up with contacting your customers via email can be stressful. Therefore, the solution is to commit to sending out a newsletter every month. As time goes on, you may increase the number of newsletters according to whatever you feel is proper for your business. However, remember to track the percentage of people opening emails and wanting to get to your online store. Every batch of emails contributes to enhancing your email marketing strategies.
10. Reward your loyal customers
Like other areas in life, online sales often abide by the 80/20 rule when it concerns who drives the revenue. You will find out that a more significant chunk of your income will come from quite a few clients. These few clients are the ones you may want to reward during the holidays. This is because they engage with your emails regularly, redeem the coupons, and recycle business.
Some experts recommend that you divide your customers into five different categories according to their "loyalty." Then target the levels based on the way they engage with your brand. Even if you don't have sufficient customers to distinguish them into five categories, pay attention to those that buy the most from you and make their holiday more special by sending them email incentives.
11. Use a newsletter calendar
Using a newsletter calendar will help you stay ahead of the holidays. Once you have your 12-month calendar, you wouldn't get stuck trying to craft a Valentine's Day newsletter on the 13th of February. This will help you plan for the holidays. Consequently, you will save effort, time, and stress.
In conclusion
It is not practical to think that all the above tips will apply to you. However, implementing the ones that suit you will help improve your revenue, particularly during the holidays. You can choose to make the most of email marketing, and holidays will be a time for your business to blossom!