The portable monitor is very popular now a days as they make your work more productive and easy. The best portable monitors enable you to add a second display to your laptop, notebook, even on mobile when you're on the move. An extra screen to help you work more efficiently whether you are doing design work, giving a presentation, enjoying TV entertainment, or gaming.
Portable monitors offer an acceptable middle ground to fill those needs. They function similarly to ordinary monitors, except they are designed to be portable. When choosing a monitor, you should consider the price, resolution, screen size, connectivity options, and, most importantly, the monitor's weight. First, I'll show you what makes a good portable monitor, and then we'll tell you the best ones that are currently available.
What Makes A Good Portable Monitor?
There are different kinds of portable monitors depending on what you're looking for. The most important differentiators are found in size, weight, screen quality, connectivity, touchscreen input, and orientation control. We'll go through the various aspects and features of every good portable monitor right here.
Screen Size, Display, and Audio
Portable monitors should be large enough so that you can work properly. Monitors with a resolution of 1080p (Full HD) or 2160p (4k) and a size of 12 to 17 inches would be ideal. The monitor's menu system should allow you to customize the usual settings such as brightness, contrast, color, and more.
When it comes to audio, it doesn't tend to be much of a consideration when choosing a portable monitor. However, good speakers in a portable monitor make it easy to listen to music or audio without any need for external speakers. When connected to your laptop, you can always switch from the display's speakers to the laptops for better audio quality.
Power and Connectivity
Most of the portable monitors are wired to a phone or laptop using an HDMI or USB-C connection. These connection allows you to transfer both power and data from your primary device to the portable monitor. Nearly all monitors are easy to operate with USB Type-C. Simply plug and play and you're ready to go. The more connectivity options a monitor can support, the better.
Touch Screen
The touch screen is a fantastic addition to the portable monitor; as we all know, regular monitors do not have touch screens, but portable monitors have. This improves the monitor's user experience.
Weight
Portable monitors are designed to be carried about rather than used at home. It's better to go for the light and slim designs because they're easier to slip into a backpack without taking up too much space. The monitor size you choose is determined by the nature of your work; nevertheless, it should not be too large; otherwise, it will lose its portability. If all you need is a portable monitor to use at home alongside your laptop, the weight isn't an issue. If you travel frequently, though, a lightweight portable monitor is recommended.
Our Recommendation: DLab Portable Monitor by Desklab
DLab Portable Monitor, characterized by an incredibly portable size, high resolution, and intuitive features. This is arguably the perfect option for persons looking to add a monitor to their tablet, phones, or laptop.
The DLab monitor aids work efficiency, offering extra screen space to expand your laptop/phone screen without affecting the organization of your space. With this device, you are assured of watching movies, playing games, or working on the go!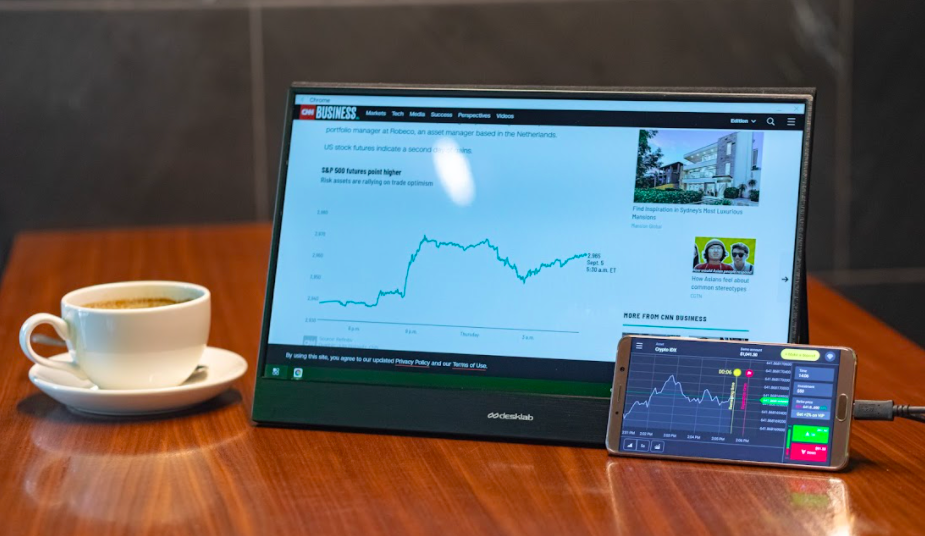 Specs
DLab portable monitor is a portable, thin, and considerably good-looking monitor designed with great features. The 15-inch 4K display wraps around to provide perfect viewing angles from edge to edge, making it a great pick. It is lightweight by having a weighing capacity of just 725 grams making the business possible on the go.
DLab can connect to any device via USB-C. DLab boasts 2 USB Type-C, HDMI, Micro USB, and a 3.5mm AUX port to enable the convenient transformation of any device into a 4K workstation. The monitor connects with all devices or software including Windows, Mac, Linux, iOS, Android, PlayStation, Nintendo, Xbox, and many more.
Screen Type: IPS
Weight: 725 grams
Width: 3.5 mm (0.14 inch)
Resolution: 1080p (FHD) / 4K (UHD)
Panel Size: 15.6"
Response Time: 20 ms
Luminance: 400 cd/m2
Ports: Type-C / mini HDMI / Micro-USB
Color Range: 16.7 M
Viewing Angle: 178°
Contrast Ratio: 1200:1
Features
The display comes with brilliant 4K resolution, LED backlighting, and an ultra-responsive touchscreen that can be adjusted in multiple angles to offer user convenience. It offers enhanced brightness and a 10ms response rate that prevents lags, offering uninterrupted gaming and viewing. Its eye-safety feature protects the user's eyes against blue light, glare, and flicker.
DLab also has a pair of built-in Hi-Fi speakers for realistic stereo sound, making video viewing as immersive as on a laptop. You can adjust the volume, brightness, and other settings to calibrate the display to your preferred level of comfort. This is the perfect display for designers that utilize a stylus or other touch-enabled functionalities for their creative work because it has native touchscreen capability and tablet compatibility.
A magnetic stand and a long-lasting screen protector are also included with Dlab monitors. DLab can be used comfortably whether you're seated, standing, or lying in bed thanks to several screen angle adjustments.
Wrapping Up:
With plenty of features, the DLab Portable Monitor combines all of the capabilities needed for on-the-go productivity in one package. DLab Monitor is arguably among the best portable monitor additions to the market.
You can learn more about the DLab monitor by visiting their website at www.dlmonitor.com.