Here we share a direct link to Download iOS 11 Stock Wallpapers. Apple is all set to unveil the latest iPhone X and iPhone 8 on Tuesday, with latest iOS 11 is the next-generation version of iOS. iOS 11 includes lots of new features like a redesigned control center, better multitasking, improvements to the camera and new safety features. We got total 16 iOS 11 wallpapers for iPhone and iPad, while three are exclusive to iPhone X. Download iOS 11 and iPhone X Stock wallpaper from below.
The iOS 11 GM (Gold Master) build of the firmware was leaked and final version of the OS will be available soon.The new iOS 11 will come with 16 beautiful wallpapers which look pretty good on your device. We got a hands-on iOS 11 Stock Wallpapers. These wallpapers contain images of flowers, celestial bodies, retro rainbows, and Apple's older colorful logos. Download iOS 11 Stock Wallpapers from the bottom of the page.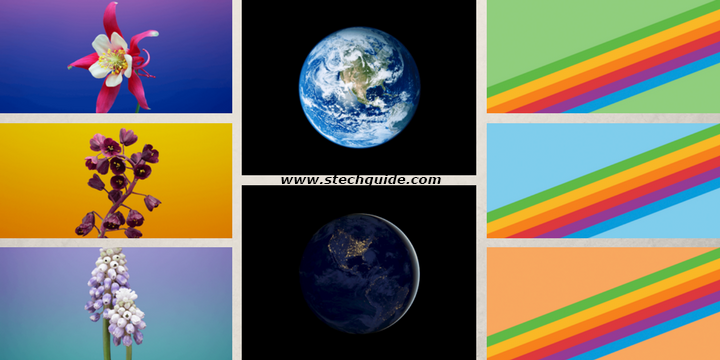 The latest iPhone x/iOS 11 stock wallpapers come in Quad HD quality which is most suitable for a smartphone with an OLED display. These colorful and Stunning iPhone X Wallpapers will be used on any device. All iPhone x Stock Wallpapers is in 2524 × 2524 pixels which look beautiful on any device. You can download a zip file containing all stock wallpapers of iOS 11/iPhone x in UHD resolution.
All the wallpaper shown above are resized to fit here. You can download all stock wallpapers of iPhone X/iOS 11 in full Resolution from the link below. We share two separate zip archives for iOS 11 wallpapers for iPhone and iPad which can be downloaded from the links below. Also, check out our Stock Wallpaper Section.
Download iOS 11 Stock Wallpapers
Download iOS 11 Wallpapers for iPhone
Download iOS 11 Wallpapers for iPad
These are the stunning and beautiful Stock Wallpapers of iOS 11. Download these beautiful and colorful iPhone X/iOS 11 Stock Wallpapers and share it with your friends.
Screenshots –
Source – 9to5mac