The age of mobile games with 2D graphics and bad gameplay is over. Modern mobile phones and the advancements of operating systems brought forward never before experienced visually pleasing mobile games. There are countless mobile games with high graphics and exciting gameplay.
These games range from genres like RPG to racing and often require players to have flagship phones with big screens and good GPUs like Asus ROG Phone and Samsung Galaxy Note. In the modern world, gamers tend to start using Android on PC to play games. One of the best ways to run Android on PC is to install an Android emulator like LDPlayer. Modern emulators come with various advanced features such as hardware acceleration, adjustable resolution, high FPS support, controller support, operation recording, key mapping, etc. And some of them even have the ability to run multiple instances of apps/games at the same time. The latest versions of the top emulators support Android Nougat version 7.1.2.
In order for a game to be played at the maximum graphics settings on a PC the emulator that the game is installed on should be 100% compatible with the game and it should have the ability to properly manage the computer's CPU and GPU. In some cases, if the Android emulator which is installed does not properly support the game, the gameplay can be laggy and the graphics can look less pleasing.
There are many types of Android emulators in the market, some of them are designed for Android developers to test out their applications and there are Android emulators that are purely finetuned for gaming. By using these emulators gamers can experience the best graphics possible. Some of these emulators are paid and some are free. When comparing with other Android emulators, the most recommended free Android emulator for PC is LDPlayer.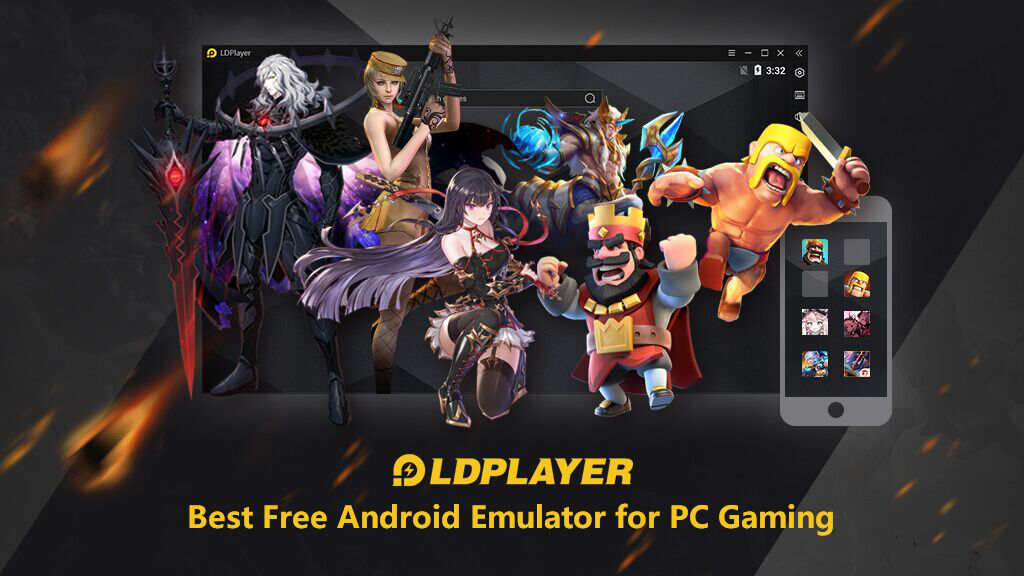 LDPlayer contains some really interesting features. It has a high FPS mode for specific games, like PUBG, Call of Duty Mobile, etc and if you install LDPlayer on a system with high-end graphics cards you will be able to run those games at high frame rates like 300FPS.
LDPlayer makes the use of a computer's CPU (Central Processing Unit) and the GPU (Graphics Processing Unit) to their full potential and further optimize the game in order to bring out the best possible gameplay experience and graphics to the gamers. LDPlayer also uses and conducts further research on some advanced core technologies such as virtualization technology, Android operating system, and Linux kernel in order to create a benchmark in Android emulator performance.
The players can utilize their graphics cards for the maximum and play games on LDPlayer. It is recommended to update graphics drivers for the Android emulator to properly use the graphics card to the advantage.
Unlike other emulators, LDPlayer can run games at higher frame rates. This can enable the players who play games such as PUBG to have a competitive advantage over conventional gamers that use mobile phones.
Some of the games are highly demanding and in most cases, some players experience issues such as lag and FPS drop when playing on any Android emulator such as LDPlayer. To eliminate these kinds of problems and to play the game smoothly, the players must finetune the emulator to work in harmony with the PC setup. This can be done in simple ways such as:
Setting the CPU and RAM to the highest cores and memories respectively. 

Adjusting in-game graphics settings to the best quality.

Updating graphics driver

of the PC 
LDPlayer runs on a technology called Virtualization Technology (VT) which is available on PCs. Virtualization which was formerly known as Vanderpool is an advanced technology which enables the computer's CPU to act as you have several computers. This will enable the PC to run several operating systems at the same time.
Since the Android system of emulators such as LDPlayer are not the same and they use virtual computers to run the system, it's highly recommended turning on Virtualization Technology (VT) to make sure that the Android emulator makes use of the resources of the CPU on your computer. This technology does not have a bad influence on your computer equipment.
Conclusion
LDPlayer is the best choice of an Android emulator for graphics-intensive games. This is mainly because of its advance use of technologies such as Virtualization technology and its neat features. The players are able to enhance the graphics of the games by following simple steps and guidelines. Each step to follow is properly documented on LDPlayer official website and anyone can reach out to their customer support to clarify any problems. So why not install it on the latest version of LDPlayer which can be downloaded free of charge, happy gaming!