There are so many Android device managers out there that it can sometimes be hard to pick one that suits your specific needs. The problem is compounded by the fact that nearly all of them boast the same features, such as backup & restore, transfer data, manage apps and so on. But a few of them stand out because they also offer flexibility, and that's what you're really after. One such unique desktop utility for Android device management is TunesBro DroidGeeker.
TunesBro DroidGeeker lets you flexibly manage your phone data over Wi-Fi or a USB cable, move data back and forth, and even install APK files directly from the software interface. In other words, it is the ultimate Android assistant for Windows as well as Mac. Download TunesBro DroidGeeker from below.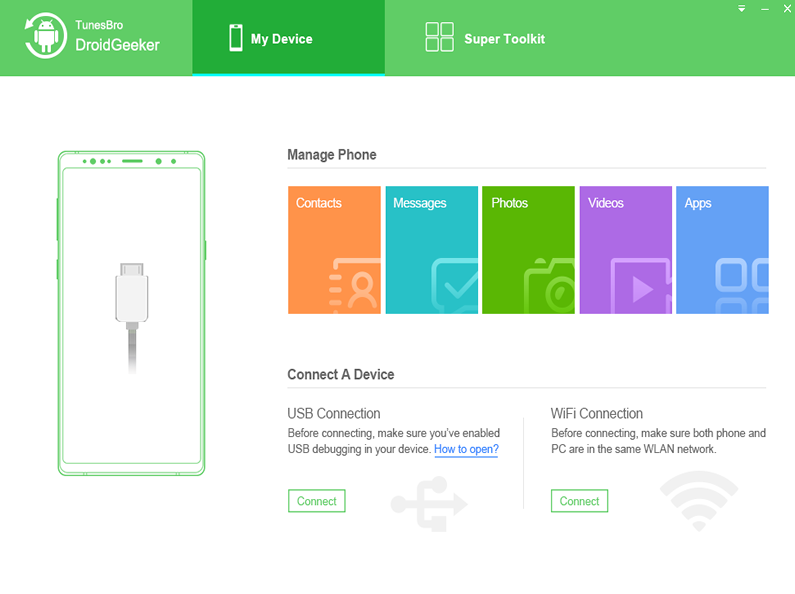 Key Feature Highlights
After downloading TunesBro DroidGeeker, the first impression about the software is that the UI is clean and uncluttered. Unlike many other applications in this category, TunesBro DroidGeeker sports a chic and modern look with a lot of white space. Most users will find that appealing, and they'll be even more pleased with the fact that the developers of this utility haven't compromised on functionality in any way. It's not a small achievement.
Once you get past the UI aspect, you will notice that the tool has two clearly demarcated functions: device management and data handling. The device management section has a cool preview function that you invoke by selecting one of the data types on the left panel. In the middle is the data itself, and on the right is the preview of its contents.
Another cool feature is the dynamic toolbar at the top of the column list in the middle section, and the buttons change based on what data type you're working with. If, for example, you're in the Apps section, you'll see options to install APKs, uninstall apps and export app data. When you switch to Libraries, you'll see options to add and remove files, export, copy and move. This type of layout ensures that you always have the right tools at your disposal no matter what data type you are viewing.
User Experience
When you install the application on your Mac or PC and connect your device for the first time, the drivers are installed and your device needs to be recognized by the program. You will also need to enable USB debugging on your phone, after which your device and memory details will be displayed on the screen.
The Wi-Fi connection option contributes a lot to user experience. Rather than fiddling with tangled cables or not being able to find the original one, you can simply connect your device to your computer using the Wi-Fi connectivity option in the software. Not a lot of Android utilities have this option, so that's a major incentive to use TunesBro DroidGeeker.
In terms of navigation, we couldn't find any issues. The software is intuitive, so when you see the display and the menus, you automatically know what to do. The clear iconography along with crisp text makes it a pleasure to use. Even the Connect to Wi-Fi option is prominently displayed so you're not hunting for it deep down inside the menu.
The utility also allows you to manage multiple mobile devices on the same desktop. Just connect the devices to the computer one at a time, and then you can choose which one you want to manage.
The one drawback – if you can call it that – is the lack of a gridview when previewing videos. The only option is the list with details view, which is okay, but grid and thumbnail views would certainly cater to various user preferences.
Pricing
Price-wise, it's very reasonable. It's hard to find a comprehensive and flexible tool like this for under $30, and since you're getting a lifetime license, you won't have to worry about paid upgrades in the future. If you're using the tool for two years, you'll be spending a little more than a dollar a month. And you'll actually be using this for much longer. From that perspective, it's even cheaper. For the kind of functionality it offers, that's a great deal.
Overall Impression
This software application will probably get one of the highest overall scores for apps in this category. All the important boxes have been ticked: user interface, user experience, flexibility, pricing, reliability, and data security. The trial version is limited in functionality, but it will give you a good feel for what you can do once you purchase a full license and activate your copy. Even without it, you'll be able to see the data on your device and do a few basic tasks to get comfortable with the different functions and the UI in general.
More than a quarter of a million people have downloaded this application so far, which is a strong testament to its market popularity. There are certainly other, similar utilities with a bigger following, but TunesBro is already a leader in areas like iOS and Android data recovery, device switching, and data transfer. We're pretty sure this relatively young software application will soon cross a million users and beyond. Watch out for TunesBro!