Xiaomi introduces its much awaited MIUI 8 OS on Tuesday event. The new MIUI 8 features a new color palette scheme with many new visual effects and new features. The company said that the MIUI 8's colors will change according to the weather. The company also said the new MIUI 8 update will come with a new font and many new wallpapers. MIUI 8 revamped the number of frequently used apps like Notes, Camera, Calculator, Phone, etc. Xiaomi CEO Lei Jun said that now there are 200 million MIUI users worldwide. Check out the MIUI 8 Features from below. Check out – MIUI 8 EliEligiblevices and Release date
Let's have a look at what's new in MIUI 8.
MIUI 8 Features –
Redesigned Fonts and Colors: MIUI 8 brings the new color palette scheme. Colors of your device will change according to the weather also the color changes as the month change.System apps such as the dialer, calendar, contacts have their own unique color and notification bar comes with immersed status bar and refreshing. Xiaomi comes with a new font for its MIUI 8 OS called as the Mi Lanting. The company says 'With Mi Lanting, we redefined and enhanced mobile reading experience.'
MIUI 8 Gallery – MIUI 8 revamped the gallery app and added tons of new features into it. Now you can store the photos in Mi Cloud. The update has new video editing tools which feature like crops, filters, captions and add music. Gallery apps also enable you to add doodle on photos, select multiple photos, add stickers, and much more.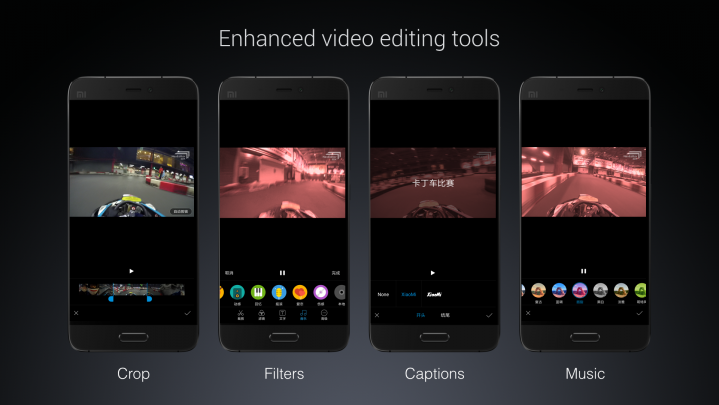 MIUI 8 Wallpaper Carousel – MIUI 8 Wallpaper Carousel have high-quality daily lock screens and includes 12 categories in total which will be provided by over 50 media partners.
Power Saving Mode – MIUI 8 features a Power Saving Mode that freezes background app activity and limits the chain start-ups which Prevents unessential apps from starting up, reduces lags and power consumption. The power saving mode helps to increase the battery life of the device by around 2-3 hours.
Phone App and Notes – The new phone app have new animation in ending and answering a call. The new Notes app enables you to set a password with passcode or fingerprint. Notes app has new templates and comes with features like swipe down to create a new note or double swipe up to delete it.
MIUI Scanner – The new scanner app comes with a Quick QR code generation for WeChat Wallet and Alipay in China. MIUI 8 Scanner has a new feature which can solve difficult Maths problems by scanning the questions. You can also scan barcodes to search and purchase products online.
MIUI Calculator – The calculator app in the MIUI 8 not only do number calculations but also get you live currency conversion, Celcius to Fahrenheit degree conversion, and more similar conversions.
SMS Fraud Detection – MIUI 8 will be capable of detecting spam and fraud messages. The inbuilt SMS App filters text messages and warns users in case of suspicious fraud or scam messages.
Multi Windows Managements: MIUI 8 featured a complete new multi windows management features which will enable faster multi-tasking.
This covers all new MIUI 8 Features. Let us know what you think about the features of MIUI 8 OS.
Source – MIUI