The Samsung Galaxy S10 is a killer phone that delivers near-perfect performance across the board. With the release of Galaxy 20, Samsung dropped the price of the S10 series that makes it much more affordable than the s20 series. The Galaxy S10 has gorgeous QuadHD+ Super AMOLED display, powerful battery, top notch hardware, an ultrasonic in-display fingerprint scanner, beautiful camera and the best software from Samsung. Overall  Galaxy S10 is a powerful and compact smartphone with a beautiful display.
Samsung's Galaxy S10 comes packed with features and to unlock the full potential of your Galaxy S10, you need the right accessories to go with it. Here we share the Best Galaxy S10 Accessories like charging accessories, Wireless PowerShare, audio gear and other add-ons that can extend the Galaxy S10 capabilities.
Best Galaxy S10 Accessories
Check out our favorite Galaxy S10 accessories that improve the look, feel, and function of the device.
1) Samsung Galaxy Buds
If you missed out on the free Galaxy Buds with a pre-order with your Galaxy S10, then you should buy this excellent pair of true wireless earbuds to accompany the popular Samsung Galaxy S10. The Galaxy Buds offer easy connectivity, an extremely comfortable fit, a warm, bassy sound and sweatproofing with six hours of battery life.
Connecting it is very easy, just open up the case, and the phone will prompt you to pair them. After that, just flip open the case, and they will automatically pair each time. The wireless connection remains strong, the music and call quality are solid, and the battery life is great. The buds comes with the well-designed case and also offering wireless charging capabilities.
2) Wireless Charger Duo Pad
The Wireless Charger Duo Pad is Qi certified and can be used to charge compatible smartphones and wearables like a smartwatch and wireless earbuds. Wireless Charger Duo Pad offer the option of powering up your smartphone and smartwatch at the same time. It has a smooth, matte black finish and slick, curvy lines, and well built.
It uses a USB Type-C universal power cable and the two charging spots offers 7.5W adaptive fast charging. Wireless Charger Duo Pad is a must buy accessories if you have phone and a watch with wireless charging capabilities.
3) Wireless Battery Pack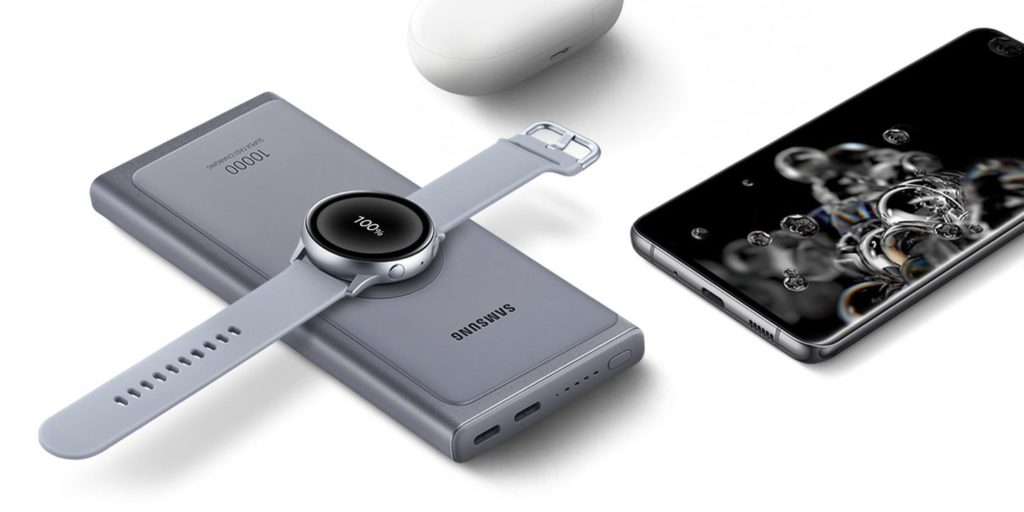 Samsung's Wireless Battery Pack sports an aluminium build and has support for QC 2.0 standard with a maximum output of 15W. It has a battery capacity of 10,000mAh and can be used to wirelessly charge the Galaxy Watch and a phone via a Micro-USB or USB Type-C cable simultaneously. it can also charge a Qi-compatible device wirelessly at 15W. The Samsung Wireless Power Bank can charge two devices at once, one through the USB port and one through wireless charging.
4) Cases, Covers, and Screen Protectors
There are a lot of ways to protect and expand your Galaxy S10 experience, but the best way to start things is by grabbing one of our favorite cases. Samsung offers a variety of relatively minimalist cases and covers in plenty of colors to protect your phone from scratches and accidental drops.
Sticking with protection, there are many Galaxy s10 screen protectors available. The Samsung Galaxy S10 actually comes with a plastic protector preinstalled to make sure you can still use the in-screen fingerprint reader and cover the waterfall edges.
5) Samsung EVO 512GB microSD Card
Samsung EVO 512GB microSD Card allow you to easily expand the capacity of your device. It offers UHS Class 3 speeds of 100MB/s read and 90MB/s write and uses Samsung's 4-proof protection. With its performance and price, the Samsung EVO 512GB microSD Card is a great choice, especially for users that need the extra capacity and protections that Samsung offers.
Wrapping Up:
There are a lot of ways to protect and expand your Galaxy experience, but the best way to start things is by grabbing these Galaxy S10 Accessories. These enhance the experience of the Galaxy S10, and are great options for everyone to pick up for.