Videos have a good reputation as a visual medium, but Music is what draws people in and gets them engaged with. It creates a good mood and brings a positive feeling even if it is playing in the background. Music touches and connects everyone irrespective of age, culture, and religion.
If you want to create an engaging video, then you must choose the right music for your project. Before you start downloading your favourite songs and integrating them into the audio track, you should also consider the legal aspects.
For each song, you need to get a specific license in order to use it in your video project. The cost can vary depending on the type of music you are trying to use and how you're using it. The best and safest way to get music is either to license it or find free music online. This way you can use the music without restrictions.
Best Places to Get Royalty Free Music for YouTube Videos
If you are looking to monetize their content on YouTube, Facebook or any other social media, then you need the royalty-free background music. There are lots of provider in the market but we share the best out of them.
1) HookSounds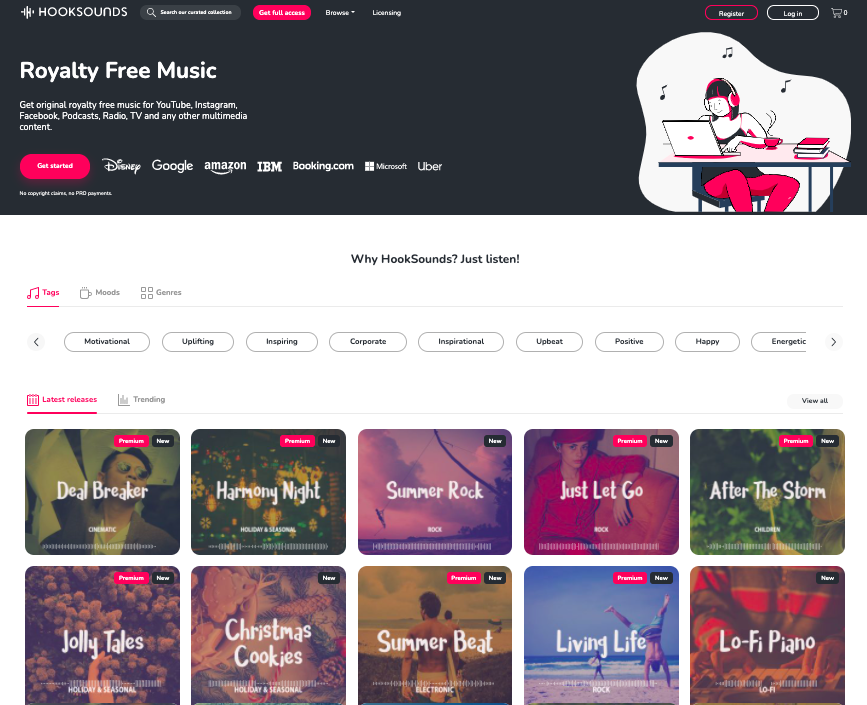 HookSounds is a site that provides exclusive and astounding royalty-free music and offers a variety of original tracks for personal and commercial use. With HookSounds, you can download unlimited original royalty-free music and use it for YouTube, Instagram, Facebook, Podcasts, Radio, TV and any other multimedia content.
In addition to providing its users with royalty free music, HookSounds also offers unique and authentic sound effects. They constantly update their collection every week so you never run out of choices.
2) YouTube Audio Library
YouTube Audio Library is the YouTube official sound library and one of the best option for discovering a range of curated background music and sounds for all types of content. It offers a bunch of music from different genres, instruments, vocal, duration and useful filter that makes your search process as short and precise as possible.
You can find the YouTube Audio Library in the Creator Studio section of your YouTube account. In the Create section of YouTube, you'll find their Audio Library from where you can get a ton of the free songs for your content.
3) Audiojungle
Audiojungle, also known as Envato Market has a huge collection of stock music in all genres. It has a global community of musicians and sound engineers that uploads their own tracks. You can browse these tracks through categories, recent items, or most popular.
It becomes popular due to its cheap $1 tracks. You can download single tracks or bundles of tracks. One of the best thing about Audiojungle is that it offers music in a modular way so that you can customize the music yourself as per your requirement.
4) SoundCloud
SoundCloud is an excellent source of music where musicians and DJs use it to upload and share their music. It also has a refreshing collection of royalty-free background for your music video. You can browse tracks by artists, genres, keywords. SoundCloud licensed under Creative Commons (CC) that are indicated under each track to minimize confusion.
5) Free Music Archive
The Free Music Archive, also known as FMA is a popular website that is filled with various songs from thousands of independent music makers, artists, and industry enthusiasts. You can search for music by genre, top charts, song title, type of license.
Wrapping Up:
With above-mentioned websites, you can download your preferred music tracks for free or a one-time cost and use it in your videos for personal or commercial purposes.