Switching from an old phone to a new phone is a common practice to get hands-on, the next best alternative of smartphones. There's no doubt in asserting that smartphones are brimmed with features that often tempt us to ditch our current phone and shift to its upgraded version. 
From Android to iPhones, there are plenty of smartphones that lure people with their high-end specifications and amazing features. Whether you are shifting from Android to iPhone or iPhone to Android, you need to make sure that all your data is safely transferred to your new phone.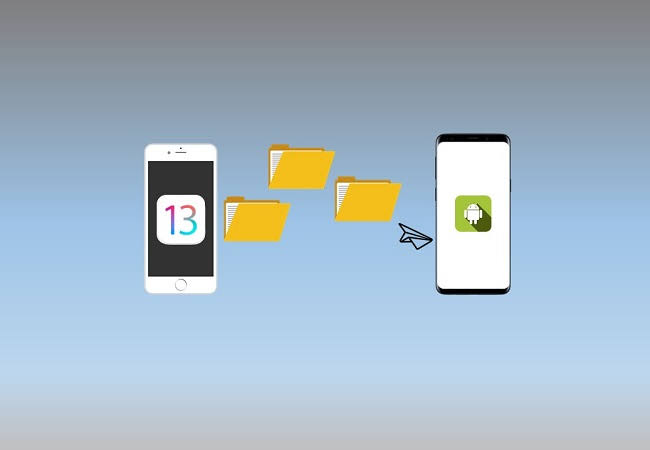 When it is about data transfer to new iPhone, there are plenty of easy ways through which can complete the process hassle-free. Whether you want to transfer text messages from Android to iPhone or simply share the pictures, you need to find the right way to do complete each process. 
Let's delve into the effective ways to transfer your data from Android to iPhone or iPhone to Android:-
Dr.fone – Switch
Sending files from one device to another can be a strenuous task if you have not got the support from the right application. An innovative way of sending files, photos, music, documents, and other relevant data on your phone, dr.fone – Switch is a phone switch tool for you. Transferring data from one device to another has been made simpler with dr.fone as it enables you to transfer data within a click. Don't wait for hours to share your extensive files, with dr.fone – Switch you can transfer your files in 3 minutes. The high transfer speed of dr.fone – Switch will make you fall in love with this phone switch tool. Whether you want to transfer data from  Android to iPhone or iPhone to Android, dr.fone will make file transferring a straightforward and hassle-free process. Install the application on your smartphone now and let the dr.fone extend its magic of transferring files within minutes.
 Fast File Transfer
A simple Android application allowing you to send large and extensive files over different devices, Fast File Transfer is one of the effective applications to transfer data. You simply need to install it in your Android phone, and the app will create a network through which you can connect your iOS device and complete the transfer. As the name suggests, transfer speed is the major highlight of the Fast File Transfer app. You can easily transfer your files from Android to iPhone and iPhone to Android as well. You don't need to create a Wi-Fi network to create a connection; the app itself creates its own network to invite the devices. 
Feem
An application made for both Android and iOS applications, Feem allows seamless transfer between multiple devices. It is a file transfer application that shares files with the help of a Wi-Fi network. You just need to download the Feem on both your devices, log in to the application, and start transferring the file. Feem is considered a reliable application for its hassle-free transfer. All your data can be safely transferred to your new phone. It also has a local chat feature where you can create a Feem community and share your files among your contacts as well. For instance, you can also request your contact to access their files and share your files with others as well. 
Instashare
A file transfer app for iOS, Android, and Mac OSX, Instashare is created with the inspiration from Apple's Airdrop feature. File transfer cannot become simpler than with Instashare. You can simply drag and drop files to your nearest contacts, and the app will make sure that your data reaches you safely. The application has both free and paid versions available for both mobile devices and desktops. Instashare is considered as the convenient and stress-free method of transferring your files from one device to the other.
At some point in our lives, the need arises to shift from our current smartphone to a better and upgraded version. When it becomes essential to switch your phones, you need to make sure that you don't lose any relevant data between the switch. It is important to find the best ways to transfer data from Android to iPhone or iPhone to Android. 
The above mentioned were some of the popular ways of sharing files between devices. Pick your right choice and make data transfer a lot more seamless. 
If you are looking for the most reliable way of data transfer to the iPhone, then dr.fone can rightly cater to all your requirements by efficiently and safely transferring your data.