Google officially announced the name of the next major version of Google's operating system "Android Oreo". The initial previews of Android O announced in March, and today we get the stable release. Today we share List of Best Android 8.0 Oreo Features, most of them are already present in the latest developer preview. The Android oreo comes with new features like picture-in-picture and Autofill to help you navigate tasks seamlessly. Plus, it's got stronger security protections and speed improvements that keep you safe and moving at light speed. Check out the Best Android 8.0 Oreo Features from below.
Other than picture-in-picture and Autofill, Android Oreo Features big revamp of the notification panel, with a new layout, colors, and features, updatable emoji, a faster startup time, and plenty of security enhancements. The final version of Android Oreo will be available to Google's own devices, such as the Pixel or Nexus and then rolled out to other OEMs. Check Whats new in Android 8.0 Oreo.
Best Android 8.0 Oreo Features
1) Picture-in-picture – A new universal picture-in-picture mode, that allows a video to be played over the top of other apps in a floating window, has also been built into Android. With PIP mode users can continue watching a video while they're answering a chat or hailing a car.
2) Faster Speed and Boot Time – With Android Oreo, Google is claiming 2X boot speed. You can get started on tasks more quickly than ever with a faster boot speed (up to twice as fast on Pixel, in fact). Faster boot time makes it one of the best Android 8.0 Oreo Features.
3) Auto-Fill – Android Oreo will also introduce a universal auto-fill system, which will allow password managers and other apps to directly fill login dialogues and other text boxes without the need to resort to accessibility features. You'll see a prompt to add fill fields like your username, password, address, Simply click to fill. Android Oreo's autofill feature will support third-party providers, too. So if you launch Twitter, O will suggest your username and password
4) Notification Dots and Snooze – With Android Oreo, notification dots let you tap to see what's new in your apps — like the important ones you put on your homescreen — and then take action on those notifications quickly. You'll see a dot appear next to an app icon that tells you you have an unread item. You can also press and hold the app icon to expand the message and take a peek at the alert content inside.
Android Oreo feature is the ability to snooze an individual notification. When a message comes through, just swipe to the right, then tap the clock icon to snooze the notification. Users can choose to snooze notifications for a period of time, and the notifications will start appearing after the time period has finished.
5) New emoji – Google is finally replacing the gumdrop emoji style from older versions of Android and is now making rounder face icons for Android O. They fully redesigned emoji set, including over 60 new emoji.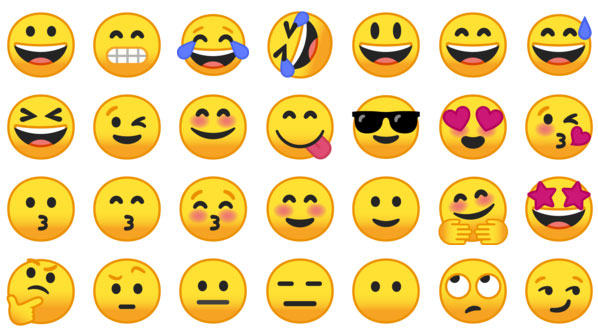 6) Google Play Protect – Google Play Protect is a background service that will optimize security on Android by analyzing the behavior of apps to detect malware and remove it from your phone and from the Play Store.
7) Adaptive icons – Developers can now provide a full-bleed square shaped icon and OEMs will mask the icon to ensure intra-device consistency. App icons will adapt automatically to the manufacturer's UI. The appearance of app icons differs across the wide range of devices running Android. So developers can create a single, unified app icon, and the system will do the rest. When an app offers an Adaptive Icon, Android Oreo will automatically crop and align it according to the system settings.
8) Background limits: Android Oreo puts a big priority on improving a user's battery life and the device's interactive performance. Background limits represent a significant change in Android. They also Limit the frequency of location updates in the background for better overall system health.
9) Downloadable fonts – Applications no longer need to bundle custom fonts, which helps reduce their size. Apps can now use fonts in XML layouts as well as define font families in XML — declaring the font style and weight along with the font files.
10) Improved Accessibility Option – Allows you to quickly access the navigation bar accessibility features, like magnification, and functionality within accessibility services, like Select to Speak. Accessibility services can also optimize the audio experience for users with disabilities.
So these are the Best Android 8.0 Oreo Features. Let me know your favorite in the comment section. Stay connected with us via Facebook, Twitter, and Google Plus to read more such helpful posts.