There are so many Android device managers out there that allow you to access and manage your Android phone from Windows, Mac. But managing your device from PC and moving your files from your Android device is quite painful and sometimes it can be hard to pick one that suits your specific needs. Some of them offer backup feature and some of them offers files transfers. But a few of them stand out because they also offer flexibility and all the features you are looking for. One such unique desktop utility for Android device management is MobiKin Assistant.
With a professional tool like MobiKin Assistant, data transfer is easier than ever. MobiKin Assistant for Android is a one-click solution to take Backup & Restore Android Data and manage and transfer your photos, music, contacts, and messages of your Android device.
MobiKin Assistant lets you wirelessly transfer different types of files among your computers and devices, as long as they're on the same Wi-Fi network. This way users will be able to wirelessly transfer data and files between an Android device and computer. And also manage all their Android content from a computer wirelessly.
Download MobiKin Assistant for Android
MobiKin Assistant is available for Android devices, Windows and Mac. You can Download MobiKin Assistant for Android and for Windows/Mac from MobiKin Assistant Official Website.
How to Install and Connect MobiKin Assistant
MobiKin Assistant lets you flexibly manage your phone data over Wi-Fi or a USB cable, move data back and forth, and even install APK files directly from the software interface. The installation process of MobiKin Assistant is very simple and it takes only a few minutes to complete the setup.
Download MobiKin Assistant for Android and for your PC from above and Install them.
Now connect your Android device to PC via USB or you can use manage your data wirelessly.
If you choose to connect via USB, you need to enable USB debugging first. Once connected, it will automatically detect your device and let you give full access to manage/transfer your content.
If you choose to go wirelessly, open MobiKin Assistant on your PC, click on 'connect via WIFI' and scan the QR code from your Android device. It will detect your device and connect instantly.
MobiKin Assistant for Android Features
1) Backup & Restore Android Data – MobiKin Assistant back up all files from your Android device to the computer, which can make the Android data backup more quickly and easily. You can backup and restore user apps, contacts, text messages, call logs, photos, music, videos, books, etc. from Android mobile phones to computers with a single click.
To take a backup of your Android device, you have to go to the Super Toolkit section of the software and click on Backup. After clicking on the backup option, a new popup window opens from where you can choose to backup all of your data or select or deselect anything from the list. You can also choose the location of your choice on your Windows/Mac to save the backup file.
2) One-click file management – MobiKin Assistant makes file transfer very easy, fast and secure. With MobiKin Assistant, you can add or export photos, videos, music, documents and more files to and from your Android device. MobiKin Assistant also lets you take a backup of your contacts, call logs and messages.
3) Organize Your Apps – With MobiKin Assistant you can take a backup of your apps and easily Install or uninstall APK files on your Android phone through your Windows/Mac PC with one simple click.
4) Pricing – MobiKin Assistant is free to download which offers a free trial. You can check the software and free trial to let you scan and preview your data. But if you want to take a backup, import or export any data from or to your Android device then you need to buy the software. The full version of the software is totally worth it and the lifetime license of the software will cost you $29.95 for both Windows and Mac.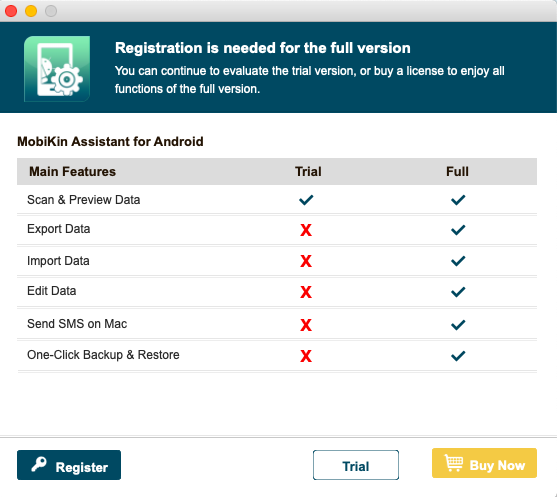 Wrapping Up
If you are looking for software to take backup or restore your data, Organize Your Apps, and for Android data transfer and management, I would recommend you to buy MobiKin Assistant as it's totally worth every penny you pay for.