Over the last two decades, the growth of internet users around the world has been staggering. In addition to all the websites available at the click of a button, information can be gathered in ways that were unthinkable just a few short years ago. Almost anyone living in the United States can easily find a large amount of personal information using the internet, and all for free. You can click here to get more information.
The reverse phone lookup is an interesting example of this. A reverse phone lookup, as its name suggests, gives the user information about the owner of the telephone number, whether it is a landline or a smartphone. This information includes much more than merely a name. Sometimes you need to know the address as well.
Introduction
Frequently, telemarketers, debt collectors, and other individuals or companies who demand money or products can cause varying degrees of irritation or frustration. A reverse phone lookup can pinpoint the exact source of the call–whether it is a call center or an individual–giving you the information you need to take the best course of action. 
You may also need to discover the owner of a phone number when someone calls you without leaving a message. You can find out enough about the caller to determine if it was a simple mistake or if you need to return the call otherwise you might miss an otherwise important call.
This sort of investigation seems to cost a lot of money–perhaps an account with a firm specializing in background checks or similar–or that it requires a lot of patient study to comprehend the high-tech wizardry involved. The reality is far from it! There is no need to spend a dime to harness this powerful tool for most devices, and when you can find them, the prices are not exorbitant.
Working with reverse phone numbers is cheaper and easier for landline numbers than with cell phones. However, nowadays there are a lot of tools available online that would help you with this. 
Here are our top picks for Free Online Reverse Cell Phone Search that would prove to be very efficient:
1) CocoFinder: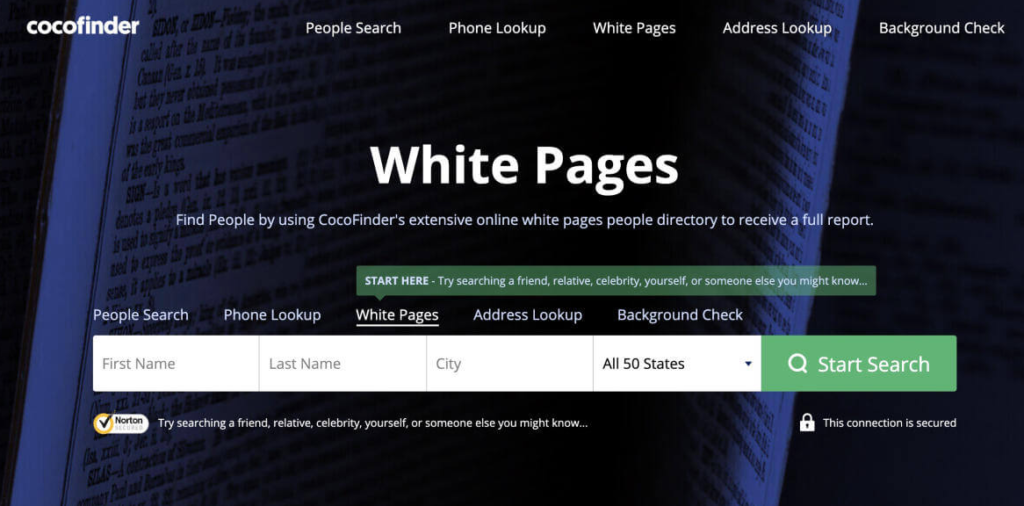 CocoFinder is a people search and public information search engine. Users can make use of CocoFinder to get in-depth information like Phone Number Identity, age, and date of birth, background check, court records, information about relatives, current address, criminal records, sex offender data, arrest records, and more. The in-built White Pages feature allows the users to find any person through an alphabetical directory of people in any locality. Similarly, there are Address Lookup, Email Lookup, Phone Lookup, and Background Checks tools which help users in getting information they want effectively.
The search engine is linked to several public accounts, thus ensuring that users get authenticated and correct information. A major benefit of using CocoFinder is that any search takes only a minute or two. This is because of the in-built next-gen technology which highly focuses on high-speed computing. 
CocoFinder is currently used by millions of people. It can be used to find out if someone is married, if someone has died or is alive, if someone is in jail, to find someone on Facebook, to run a background check on a prospective employee, or even run a background check on yourself. One can even use CocoFinder to run a Level 2 Background Check. 
CocoFinder is a 100% safe phone number lookup tool. It doesn't require a user to create an account on the platform nor do they require any personal information such as email or credit card information.
2) Instant Checkmate:
Instant Checkmate is a background check service which researches demographic data, criminal records, and other public records across the USA. The tool makes it easy for users to get required information about their family members, friends, coworkers or anyone else they want! The tool is very safe and they put privacy first. They never alert the person the user has searched about. Any searches are secured with a 128-bit encrypted connection and with certified Norton protection.
With the use of Instant Checkmate, users can search for any kind of criminal background check instantly thus skipping the actual time-consuming and frustrating process.  The tool is one of the best public criminal search engines online.
3) Truthfinder:
Truthfinder is a reputable and reliable background check service which focuses on giving the users detailed reporting and an intuitive interface. It is a public records search that helps users get needed information such as social media, photos, background checks, contact information, police records, civil judgements, and much more.
Using Truthfinder, a user can immediately get details about the unidentified unknown caller. The details may also include social media profiles and also photographs. 
Truthfinder is one of the most trusted background checking services in the USA. The tool so far has helped thousands of Americans reunite with their friends and family. If you have a Truthfinder membership, you can also make searches by using a physical address or an email id. 
4) Intelius:
Intelius was founded in 2003. The tool offers a reliable place for users to search for people, telephone numbers, addresses, background checks, and more. Users can use the tool to reconnect with old friends, review property data on the house they want, look up their potential relationships, see what appears in their background check and also access up-to-date contact information.
Conclusion
All searches are completely private and confidential. There are over 20 Billion public records available online and the tool provides access to the best information available online.
Ultimately, a reverse phone lookup is an invaluable tool for anyone searching for information about the calls they receive. Thanks to the internet, you can discover the owner of a phone number, for free or for a fee. The above-listed apps are very effective in finding details of an unknown caller in just a matter of seconds. These apps can be used as a substitute to a Private Investigator.