Managing your device from PC and moving your files from your Android device is quite painful but with a professional tool like AnyTrans for Android, data transfer is easier than ever. AnyTrans for Android is a one-click solution to manage and transfer your photos, music, contacts, messages or any other data and files between any device.
AnyTrans is a software brand that has focused on mobile data management for both Android and iOS users for years. Other than Android and iOS, you can also manage your data and files from PC/Mac. You don't need a USB cable and easily manage your content on your computer instantly via Wi-Fi by scanning a QR code.
AnyTrans offers a Wi-Fi connection between Android device and computer, so users will be able to wirelessly transfer data and files between an Android device and computer. And also manage all their Android content from a computer wirelessly. Normal software or method won't let you backup everything. When it comes to transferring certain types of data like files and SMS logs, it's even trickier. But with AnyTrans you can transfer any type of data and even transferring messages from iPhone to Android or vice versa is possible.
Download AnyTrans for Android
AnyTrans is available for all kinds of Android and iOS devices, Windows and Mac and it's even available as Web version. You can Download AnyTrans for Android from Play Store and for Windows/Mac from iMobie's Official Websites.
How to Install and Connect AnyTrans
The installation process of AnyTrans is very simple and it takes only a few minutes to complete the setup. The UI is very beautiful and simple and you don't need any technical knowledge to use the software.
Download AnyTrans for Android and for your PC from above and Install them.
Now connect your Android device to PC via USB or you can use manage your data wirelessly.
If you choose to connect via USB, you need to enable USB debugging first. Once connected, it will automatically detect your device and let you give full access to manage/transfer your content.
If you choose to go wirelessly, open AnyTrans on your PC and scan the QR code from your Android device. It will detect your device and connect instantly.
AnyTrans for Android Features –
Multiple Device Support – AnyTrans lets you easily manage your data across iOS devices, Android mobiles, PC/Mac, and cloud storage. Apart from a Mobile app, AnyTrans offers a desktop and web app to let you manage data on your phone, from your computer.
One-click file management – AnyTrans let you manage your data by connecting via USB cable or wirelessly. AnyTrans organizes music, photos, videos, documents, and more files into categories to make it easy to find what you are looking for. AnyTrans app works with the desktop version so you can reorganize, rename, and delete files on your Android device.
File Transfer – AnyTrans makes file transfer very easy, fast and secure. With AnyTrans you can share photos, videos, music, documents and more files to and from your Android device. AnyTrans connects your phone and computer wirelessly and let you transfer data between iOS and Android devices, or between PC/Mac and Android device wirelessly.
You don't have to install any program on your PC/Mac. You even don't need of a USB cable (However you can connect and transfer via USB) as it let you manage files wirelessly. Simply scan a QR code, and you can start transfer instantly.
Android Mover – The Android Mover feature offers users a seamless and smooth transition from old Phone to new Android Phone, whether from an old Android phone or old iPhone. Android Mover has a 1-click solution to migrate content from previous iPhone/Android to new Android, transfer content from iTunes library or transfer content from iCloud or iCloud backup to new device.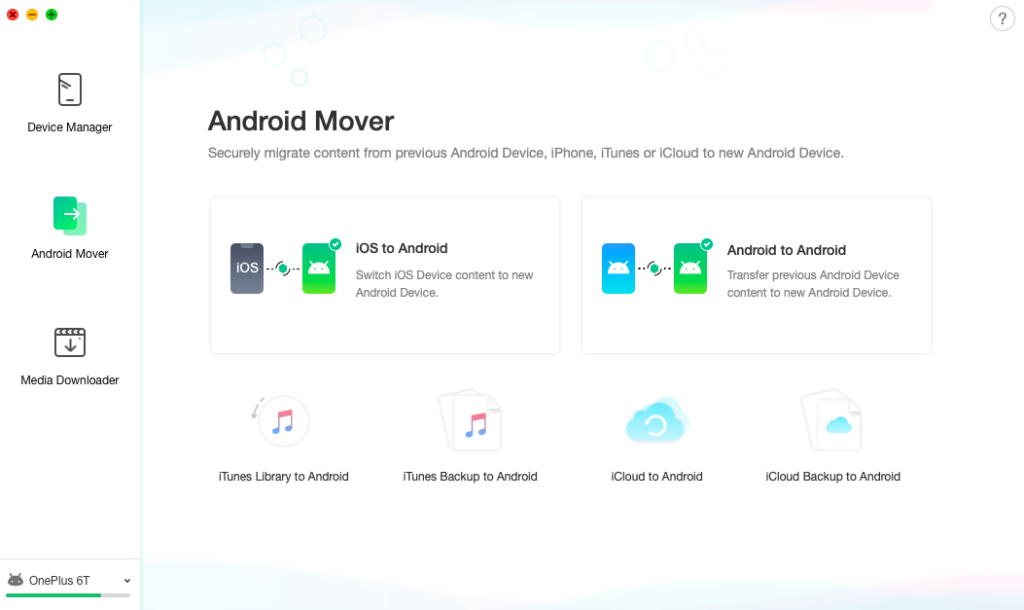 Media Downloader – The media downloader feature lets users download online videos and music from over 1000+ online sites. Media Downloader also converts all incompatible videos and music to widely supported MP4 or MP3.
Pricing –
AnyTrans is free to download which offers a trial period. You can check the software and try all features but when the trial period is up, you need to pay to continue enjoying all of AnyTrans features. If you are looking for software for  Android data transfer and management, I would recommend you to buy AnyTrans as it's totally worth every penny you pay for.
The lifetime license will cost you $39.99 for one computer, $59.99 for a maximum of 5 computers and $99 which can be used on 10 computers. AnyTrans gives lifetime updates and priority technical support.