Few month ago Senior Recognized Developer Chainfire released the new version of the SuperSu app called Systemless root, which allows users to get the OTA updates on a rooted device. And now Systemless Xposed Framework with working OTA is also available. Xposed is an app for root users that allows you to install different modules to customize your phone. The primary motive of the Xposed framework is to get all customization and features you found on a custom ROM  to your Stock ROM. But many users don't install Xposed just because installing a Xposed will stop OTA updates and Android Pay. But now XDA Recognized Contributor topjohnwu brings the modified Systemless Xposed Framework same as Systemless SuperSU, which will not modify the system files and users still receive the OTA updates even if the device is rooted. So Download Systemless Xposed Framework for Android devices from below.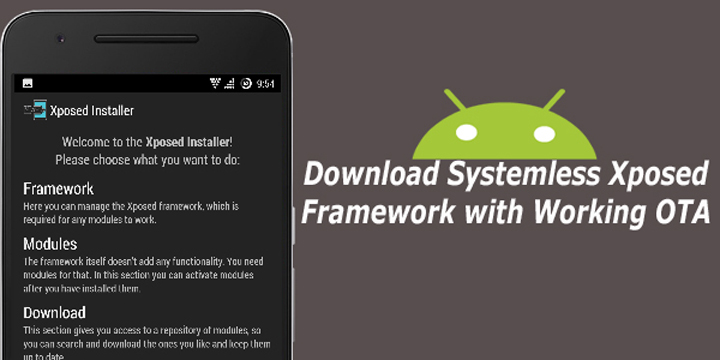 Systemless Xposed framework is only available for the Marshmallow devices which are rooted with Chainfire's Systemless root. Systemless Xposed has been tested on HTC One M8 (arm), HTC 10 (arm64) and Nexus 9 (arm64) by the developer. And users of Galaxy S6, S7, and other Samsung users also reported that the devices are working well with systemless Xposed. To use Android Pay with Systemless Xposed, you need to disable xposed firmware and reboot your device. So Download Systemless Xposed Framework for Android devices from below and install it on your device.
Also Check –
Download Systemless Xposed Framework for Android Devices –
Download Material Design Xposed Installer 
Note: –
Systemless Xposed framework only works on Marshmallow devices.
You need be on Stock Firmware. Restore your system back to stock if not already installed.
Systemless Xposed framework only works on a rooted device with Chainfire's Systemless Root.
Install Material Design Xposed Installer (The official version won't work, it fails to detect systemless Xposed)
For safer side take a complete backup of your device.
How to install Systemless Xposed Framework on Android Devices –
1) First, make sure you have enabled 'Unknown Sources' option. You find it here Settings –>Security –>Unknown sources.
2) There are different versions of Xposed framework available for different types of CPU's. To check your CPU architecture install the app called 'Hardware Info'  from play store, open it and click on the processor. It will show you which type of processor your device have.
3) Download the suitable Framework zip and Material Design Xposed installer for your device and move it to your sd card.
4) Reboot your phone into Recovery mode.
5) In TWRP recovery, click 'Install' and select the Xposed framework file zip file you downloaded from above.
6) Simply swipe the slider and select wipe cache/Dalvik and reboot your device. At first boot, it will take some time so be patience.
7) Now Install Material Design Xposed installer and open the app after installation.
8) Done. You successfully install systemless xposed framework on your device. Now move to the download section and start browsing modules you love.
How to Uninstall Systemless Xposed Framework –
Simple Uninstaller is not available for now. To uninstall systemless Xposed, restore stock boot image and re-flash SuperSU to gain root and disable encryption/verity etc.
So this is the complete guide to Download Systemless Xposed Framework with Working OTA. Install the app and search the Module you want and enjoy tweaking your phone. If you have any doubt, ask me by commenting below.