Download and Install Google Apps for Xiaomi Mi 6
Here we share How to Download and Install Google Apps for Xiaomi Mi 6. As we know Xiaomi devices sold in China does not come with Google apps installed. That means the user can't access any of the Google Services like Gmail, Youtube, Google Search, Google Play etc. Recently launched Xiaomi Mi 6 also don't have Google services pre-installed but you can install Google apps including Google Play Store on Xiaomi Mi 6 even on non-rooted devices. Download and Install Google Apps for Xiaomi Mi 6 from below. If you are interesting on Rooting your device then check our guide to Install TWRP and Root Mi 6
Gapps (Google Apps) are the Google-based application such as Google play store, chrome, youtube, etc. which comes pre-installed on almost every device. Without Gapps, you can't use Google services. Almost every Android phones come with pre-built Google Apps. But due to some Licence Issues, many Xiaomi phones like Mi 6 with MIUI China ROM installed doesn't come with Google Apps. So you need to Install Google Apps on Xiaomi Mi 6 separately. You can Download Google Apps for Mi 6 from the link below.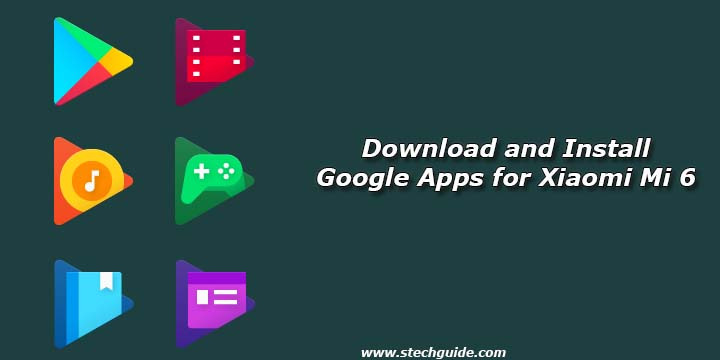 Installing Google Apps on Xiaomi Mi 6 is very simple, all you need to download the Google Apps Package and restore it. The Gapps for Xiaomi Mi 6 includes all play services including Play Store, Gmail, Google Games, YouTube, Hangouts, Google Chrome, Google Map and more. So check the below guide to Download and Install Google Apps for Xiaomi Mi 6.
Download Google Apps for Xiaomi Mi 6
How to Install Google Apps on Xiaomi Mi 6
First Download Xiaomi Mi 6 Google Apps zip file from above and extract it on your PC.
Extract the file and move the AllBackup folder to "Internal storage\MIUI\backup" in your device. (If backup folder isn't there, then create one).
Now Go to Phone Settings -> Additional settings -> Backup & reset and select the Local backups option. 
You will find the backup folder that you copied before.
Select it and then tap on Restore.
Now wait until the process finish
Done! Reboot your device and you see Play Store on your device.
Troubleshooting
If you are installing the Gapps for Mi6 from above and getting an error 'Waiting for WiFi…' while opening Play Store then don't worry that can be fixed as well. You can follow the below steps to fix waiting for wifi error on Play Store.
First, install Google Play Store on Xiaomi Mi 6 with above steps.
Go to Settings -> Installed apps and tap on Google Play Store
Click on Uninstall to uninstall the Play Store.
Now Download Google Play Store v7.1.11.1 for Mi 6 (This version disabled automatically updated version)
Now install the above version of Play Store on Mi 6 and restart your device.
Done.
This is the easiest way to Download and Install Google Apps for Xiaomi Mi6. If you have any doubts comment below.
Source – MIUI