Here we share a step by step guide to Unlock Bootloader of Xperia Devices. Most of the Xperia Devices comes with Bootloader locked that prevents user to make system-level modifications to their phone, edit the system files and avoid bricking. Why do we need to Unlock Bootloader on Xperia Devices? Locked Bootloader means you can't flash the custom recovery, custom kernel or custom ROM on your device unless you unlock the Bootloader of your device. So if have Xperia Devices and want to unlock its bootloader then follow below guide to Unlock Xperia Device bootloader.
Unlocking Bootloader of Xperia Devices is very simple all you need a PC, Data cable, working internet connection and this step by step guide. Follow the below steps to Unlock Bootloader of Sony Xperia Devices. But read the below note carefully before you unlock bootloader of Xperia Devices. Check Nougat Firmware for Xperia Devices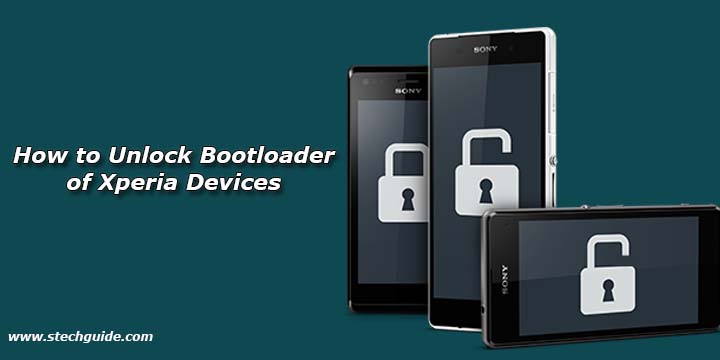 Note:-
Unlocking device bootloader will void your phone warranty, and you won't claim it back.
Follow the steps correctly otherwise you may brick your device. We are not responsible for any damage to your phone.
It will erase all your phone Data, so we advise you first to take a complete backup of your phone and then proceed.
Ensure that your phone has at least 50-60% charged to prevent the accidental shutdown in-between the process.
Before You Begin
How to Unlock Bootloader of Xperia Devices –
Can my Xperia device be Unlocked?
Sony has been adding devices time to time to the unlockable bootloader list. The list has been updated when a new device will launch. If your device is listed on Sony Unlock Bootloader website under the Supported Phones section then your Xperia device bootloader can be unlocked. You can also check the below steps to check if your Xperia device bootloader can be unlocked or not.
1) Open the dialer and type *#*#7378423#*#* to access the Service menu.
2) In Service menu, go to Service info -> Configuration -> Rooting Status.
3) Now check if Bootloader unlock allowed says "Yes". If it is yes then you can unlock Bootloader on Sony Xperia device.
4) If it says No, or if the status is missing, sorry but your device cannot be unlocked.
How to Get Unlock Code from Sony
The unlock key is different for every handset and you will need it to Unlock Xperia device Bootloader. Check below steps to Get unlock code from Sony.
1) To get bootloader unlock code from Sony Go to Sony's Unlock Bootloader website.
2) Scroll down to the bottom of the page and select your device and click continue
3) You will be taken to the email verification page. Enter your valid email address and accept the Terms & Conditions, and then click on Submit.
4) Now check your mail box and you will receive an email from Sony mobile with a "Click here to proceed" link. Click on it to open the new page on your browser.
5) You should now be at the Unlock request page. Enter your device IMEI number (To get the IMEI number, dial *#06# on dialler) and accepts the terms and condition, and at the end hit the "Submit" button to start the unlocking process.
6) Check your mail again, You will now receive the unlock key for your Xperia, note it down or Save it for later use. Now follow one of the below guides to Unlock Bootloader of Sony Xperia Device.
Unlock Bootloader of Xperia Devices with ADB
1) Download and Install the ADB and fastboot driver for windows or ADB and Fastboot for Mac.
2) Now go to ADB and Fastboot installation directory open ADB folder and open the command window there by pressing and hold the 'shift' key and right-clicked anywhere in that folder.
8)Now connect your device to PC and enter into the fastboot mode. To enter the fastboot mode of Xperia Device type the below command.
adb reboot bootloader
6) You are in a Fastboot mode now to check your connection by entering below command in command prompt. It will return your device serial number means your device properly connected. Check your driver if the above command is not responding.
fastboot devices

7) To unlock the bootloader of Xperia Device, go to the command line and type below command. It will only take seconds to complete the process.
fastboot -i 0x0fce oem unlock 0x(unlock key from sony)
8) Above step will unlock the bootloader of Sony Xperia Device.
9) Done.
Unlock Sony Xperia Bootloader with Flash tool
1) Download and Install latest Flashtool for Xperia device – Download
2) Now open the flashtool and click BLU icon.
3) Connect your phone on Flashmode by pressing and holding Volume Down button.
4) In Flashmode, if asked to boot in "Fastboot Mode". Press and hold Volume Up button[Fastboot Mode] key in off state while still connected to PC.
5) Now in next window, it will ask your IMEI number and Unlock code. enter IMEI number and unlock code you got earlier
6) Enter IMEI number and Unlock Code you got earlier.
7) Now Tap the Unlock button to Unlock Bootloader of Xperia Devices.
8) Done.
This is the complete guide on how to Unlock Bootloader of Xperia Devices. If you have any doubt related to above process comment below. Stay connected with us via Facebook, Twitter, and Google Plus to read more such helpful posts.