CleanMyMac 3 for Mac is an interesting tool offered by MacPaw that comes loaded with some brilliant features to keep your Mac in good health. While the tool has pretty much everything to keep your system clean and running, still if you are looking for alternatives to CleanMyMac 3 for your system, then it's time to check the below list. Here, we have tested and reviewed 5 best CleanMyMac 3 alternatives that you should try in 2020. 
Why need alternatives to CleanMyMac 3?
Well, one of the reasons why you should look for CleanMyMac 3 alternatives is to have some additional features. You may want a complete Mac cleaner and optimization tool that keeps your Mac secure in addition to cleaning it. Some additional cleaning modules like duplicate cleaning and greater compatibility to latest macOS Mojave version could be another reason for your decision to look for alternatives to CleanMyMac 3. Let's explore more.
Alternatives to CleanMyMac 3
Smart Mac Care
Let's begin the list with one of the most powerful Mac cleaner software that also ensures your system security remains intact. Smart Mac Care is advanced all-in-tool that offers 3 powerful modules to clean and secure your Mac. This advanced software is compatible to all latest Mac versions (OS X 10.9 or later). Let's discuss what it has to offer you.
Malware Scan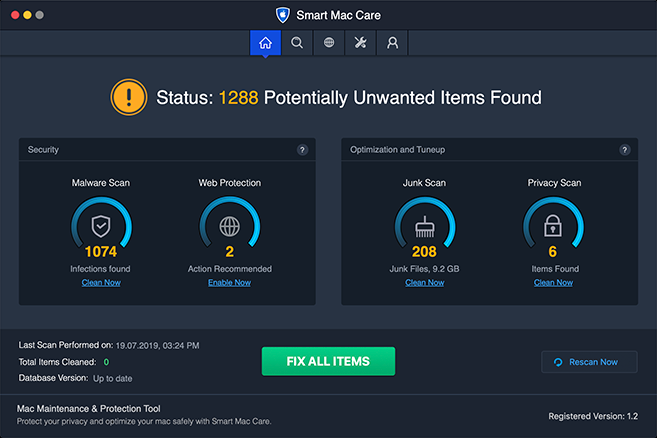 Malware Scan module of Smart Mac Care ensures your system remains protected from all infections and malicious software. It actively protects your Mac from adware, spyware, and other malware threats. It deep scans your system storage to quarantine it effectively. It also helps you remove unwanted apps for better protection.
Junk Scan
Junk Scan module of the app ensures your system remains free of all digital junk be it cache files, log files, Trash items, temporary files, or more.
Privacy Scan
Under this module app will clean your browsing history including application cache, cookies, and Internet history. It is useful to keep your online activities secure.
Advanced Tools
Smart Mac Care also offers some advanced utilities including app uninstaller, duplicate finder, and tools to remove failed downloads and login items for effective cleaning. 
Read Also: Windows 7 is over! Upgrade to Windows 10 for $10.52
CCleaner for Mac
Next best alternative to CleanMyMac 3 is CCleaner for Mac. IT offers tons of useful features to deliver effective cleaning and protection. It cleans your passwords and Internet files to protect your Web browsing privacy. It removes unwanted apps and removes traces of unwanted documents to recover valuable disk space. You can also use CCleaner for Mac to speed up boot times and reduce memory load for seamless user experience. It also works as an effective app uninstaller to help you uninstall all unneeded apps & software.
CleanMaster
CleanMaster is effective CleanMyMac 3 and CleanMyMac X alternative that offers advanced disk cleanup features. You can use CleanMaster to track and remove all junk files effectively. It offers smart clean feature where it deep scans your system storage to find and clean all junk files. It also helps you clean obsolete large files and remove unnecessary extensions. To speed up boot process, it helps you disable useless login items.
OnyX
If you are looking for instant alternative to CleanMyMac 3 that is compatible with all Mac versions then OnyX should be your pick. This multifunctional utility for macOS verifies the startup disk and structure of its system files before start cleaning. You can use OnyX to deeps can your system storage to find and clean junk files even from the remotest corners of your device storage. It also helps you configure hidden parameters of many of Apple's applications for effective cleaning.
AVG TuneUp for Mac
Clean and optimize your Mac with this great CleanMyMac 3 alternative. It helps you get rid of all junk files to recover valuable disk space. It helps you clean your Mac to ensure it runs like a new. It not only cleans junk files, but it also removes unnecessary hidden files, duplicate files, duplicate photos, and more. It uses multilayer system to tune up your Mac for better performance. If you are in search of Mac cleaner software that works automatically to save your time, then AVG TuneUp for Mac should be your choice.
Must Read: Hottest Trends in Lead Generation for 2020
So, here are the 5 best alternatives to CleanMyMac 3 for your system. Do try them and share your experience in the comments below. We would like to hear from your which tool works well for you!